The current Chelsea consultant promoted an NFT service on Twitter that contained copyrighted images, inviting legal trouble.
The Premier League and the UEFA will be pursuing legal action over the use of copyrighted content in tweets made by former Chelsea players John Terry and Ashley Cole. The duo promoted some non-fungible tokens on Twitter that contained images of the Premier League and UEFA Champions League trophies. Chelsea are also believed to be looking into the situation after it was revealed that some of the NFTs also contained the official Chelsea badge.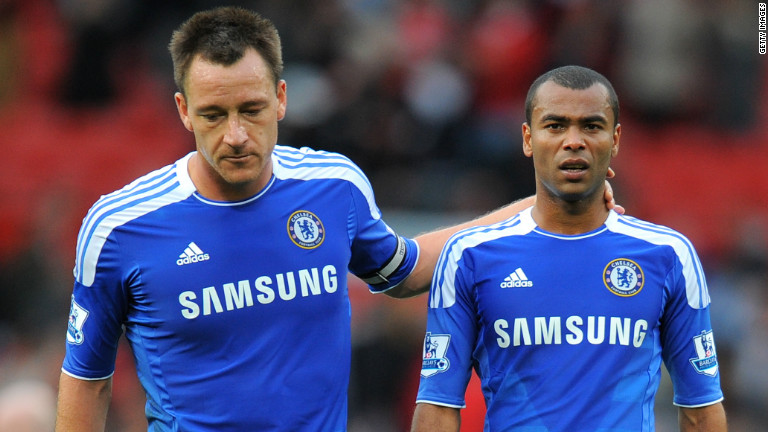 Terry is considered as one of the Premier League's all-time great players, after a glorious career with Chelsea, having spent almost two decades at the club, and emerging as their best player ever, with 214 clean sheets in 483 appearances, second on the all-time list, only to teammate Frank Lampard. The former captain left Chelsea in 2017 to join Aston Villa before retiring from professional football. Terry has since returned to the club in a consulting capacity, which commenced earlier this month.
Thanks mate glad to be part of it 🥷🏽 https://t.co/EH8bUWBM35

— Ashley Cole (@TheRealAC3) January 23, 2022
He has been promoting the "Ape Kids Club" NFTs for quite some time now, which contain pictures of baby apes with a variety of football-related memorabilia. Some of the NFTs in question contained images of the official Premier League, Europa League, and Champions League trophies. Some of Terry's tweets have also been retweeted by his former teammate Cole.
The posts put up by Terry have been noticed by the Premier League and UEFA as well, and both bodies have taken objection to the use of the trophies, which are protected by a trademark, and the use of these images is permitted only with a valid licensing agreement.
UEFA has reacted to the controversy surrounding the iconic centre-back's actions, saying:
"Uefa takes the protection of its intellectual property rights seriously and we are investigating this matter further."
The English Football Association are also looking into the matter after some NFTs reportedly contain images of the FA Cup, The Community Shield, and the England kit.
Terry has recently returned to Chelsea in a consultancy role at the club, and has actively been promoting "Ape Kids Club" on Twitter. Jack Wilshere and Nigel de Jong are among others who have also endorsed the company. The Chelsea wing-back Reece James also put up a post relating to the matter, as he revealed that he recently acquired a "Mutant Ape" NFT from the "Ape Kids Club".
The "Ape Kids Club" is assumed to be a spinoff of the popular NFT, "The Board Ape Yacht Club", which supposedly have 10,000 illustrated images for sale. The "Ape Kids Club" is also understood to be a similar venture.
Happy to be on board Coach! Now let's get to work! 🙌🏽🔥 @ApeKidsClub https://t.co/7pUqBcJeCs

— Nigel de Jong (@NDJ_Official) January 21, 2022
Thanks JT
Buzzing to see this incredible journey your going on with the #AKFC bringing football to the blockchain.

Let's Go 👊🏻⚽️🔴⚪️ https://t.co/HbocHfIac2

— Jack Wilshere (@JackWilshere) January 22, 2022
NFTs are collectable digital assets, which are stored on blockchain networks and can be bought and sold with cryptocurrency tokens. The ownership and provenance of NFTs are ratified by the blockchain network itself and have gained traction in recent times, as they have been meteorically rising in value.
The two biggest cryptocurrencies by market capitalisation are Bitcoin and Ethereum, but there are more than 13,000 such crypto assets. There are many who oppose the existence of these cryptocurrencies, as they view them as threats to the banking system, being an unregulated financial asset, much like the NFTs. However, there are also those who support cryptocurrencies due to their security and decentralised nature.
Cole might not invite much legal action, as he only retweeted a picture with an illustrated image of the Champions League trophy and not the actual trophy itself. The UEFA is believed to be prepared to take strict legal action, as they would not like to entertain such practices in the future and are keen on setting a precedent for the future in case something like this happens again.
Reports have also claimed that both Terry and the NFT service Ape Kids Club have been notified legally. It is also understood that both parties have been called to record their initial statements regarding the matter.