When Liverpool and Brentford met each other last time, they produced a football match that epitomized the pulsating nature of the English game. It finished in a 3-3 draw at the Brentford Community Stadium, but for the Bees to aspire or achieve anything similar at Anfield will be a difficult task.
Liverpool played out a soul-stirring 0-0 draw in their first-leg encounter against Arsenal, a game that could've gone their way but finished with frustration. This wasn't the first time Liverpool failed to close down such a tricky fixture and as a result of it, they found themselves well behind Manchester City in the Premier League title chase.
Jurgen Klopp's side have registered some disappointing results in the Premier League after Christmas, dropping points against Leicester City (0-1) and Chelsea (2-2). The absence of Mohamed Salah and Sadio Mane has hindered the side's attacking prowess significantly, but that cannot be a complaint when the team hosts Thomas Frank's men.
Brentford post-Christmas have been a bit unpredictable. They lost to Brighton 0-2 on Boxing Day and soon lost to Manchester City 0-1 at home. They bounced back with a stellar 2-1 win against Steven Gerrard's Aston Villa, but went down horribly to the resurgent Southampton unit, who were playing in front of their new owners for the first time.
Things don't get easy for the Bees starting with this fixture on Sunday. They will be hosting Manchester United in a rescheduled mid-week fixture and will play Wolves on Saturday. It won't be easy to accumulate points in either of these games, but they will need some points to steer further clear of the bottom three.
Brentford are winless in their last six away games, and have conceded at least 2 goals in each of these games, which isn't a great record to have before entering Anfield. However, Thomas Frank will be hoping for a more resolute performance against a slightly tainted Reds attack, which still has great potential, but can be vulnerable.
Key players
Diogo Jota has been in stellar goal-scoring form this season, and is on course to making 2021/22 his most productive football season ever. The Portuguese forward, whose best season in the top division of a league was 16 goals for Wolves in 2019/20, already has 12 this season, 10 of which came in the Premier League. With the main men absent, Anfield will be pinning their hopes on the 25-year-old to deliver a big performance.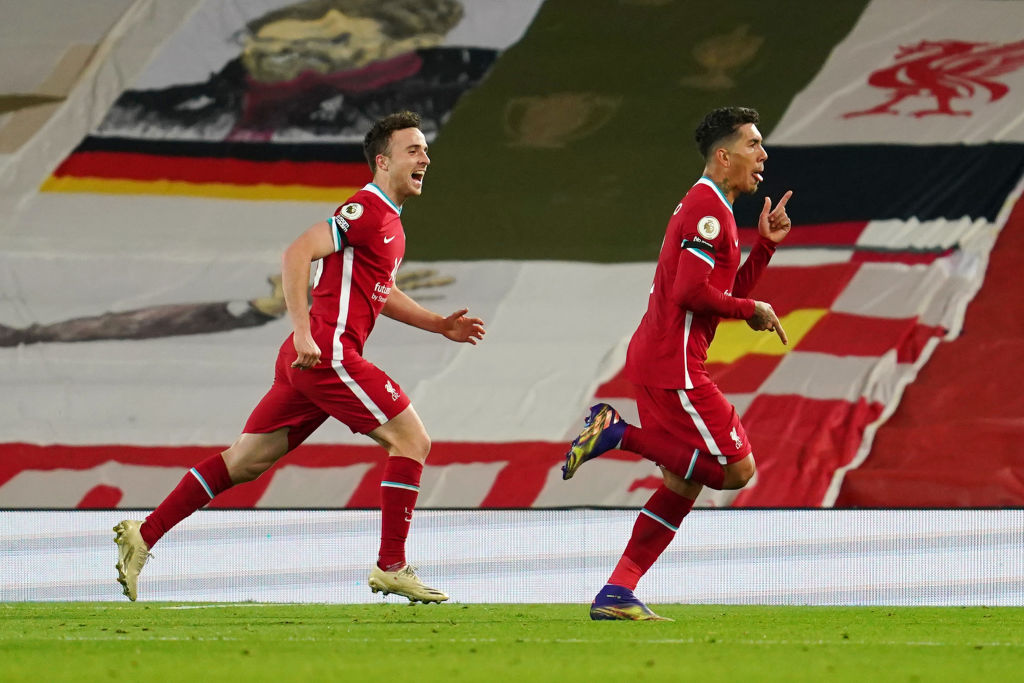 Despite not producing the best of numbers, Roberto Firmino is always an integral part of the best Liverpool attacks. The striker produced some stunning performances this season, most notably against Manchester United at Old Trafford, and they need that Brazilian magic more desperately in this fixture. He has scored four goals in the league and assisted twice and will be keen on adding to these numbers on Sunday.
To produce a little more flair to the attack, Klopp might award Curtis Jones a start in this fixture and the young midfielder has produced top performances this season. He is pretty good at winning the ball back and making the quick attacking transition, making him a top option to start in the midfield with a lot of notable names absent. He made two goal contributions this season in the league, and will be heading into the box more often in this game to add to that tally.
One of the two major target-men for Brentford in their attacking system, Yoane Wissa has scored three times in the league despite missing out a number of games due to injuries.
He has the ability to get into good positions and make good runs between the centre-halves, but against Virgil van Dijk, it won't be that easy. The Congelese international did score against Liverpool last time and will fancy another shot this time too.
Their star in the promotion campaign, Ivan Toney has shown plenty of sparks but not many true fireworks. He has been at the receiving end of some criticism for not finishing good opportunities, but he has a knack of getting into good positions. He scored four goals and assisted two times.
Prediction
Despite not having the best attacking options, Anfield is often a scary place to travel to, and the fans often end up seeing their side past the winning line.
Despite showing great promise, Brentford have also found themselves vulnerable many times, and this doesn't look like a fixture where they'll make their mark.
The prediction is for Liverpool to win it 2-1.